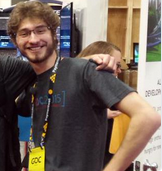 ZolarKeth is a former developer of Apocalypse Rising and a good friend of Gusmanak. His armor can be found as an in-game item. ZolarKeth is the former scripter and code writer for Apocalypse Rising. After several years of dedication to the game, he has moved on to producing games and attending college in order to develop a stable career.
ZolarKeth also has most of the game's Decals in his inventory, about forty pages of them for Apocalypse Rising.
His character clothing is the rarest armor item in the game. It is called ZolarKeth's Armor.
ZolarKeth's real name is Ethan Witt and he got into college by sending a link to Apocalypse Rising.
Zolarketh left Apocalypse Rising development and ROBLOX altogether in 2016.
The Apocalypse Rising community thanked ZolarKeth for his years of dedication to the Apocalypse Rising project and wishes him the best of luck in his future projects.
He has developed another game called Urbis.