The Bunker is an underground structure near the city of Kin. There are multiple rooms and hallways with item spawns and is accessed via a vertical shaft and ladder.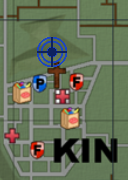 You cannot spawn within the Bunker, you can only spawn on the hill outside. The normal map does not show the location of the Bunker.


The Bunker is an underground structure within Amend's Forest. There is only one hallway in the Bunker with cells leading off to the side.
The day before a Patient Zero event occurs within the Bunker the monitor at the far end of the Bunker hallway will turn red.
It is presumed that the Bunker was used for experimentation by Trinity Corporation.