This article describes a feature in the first Apocalypse Rising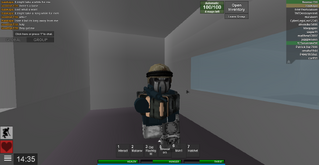 The HUD, or heads-up display, is the method by which you can:
See who is connected to the server.
When you click on someone's name in the game you can see their player kills, zombie kills, and days survived.
Join or leave a group, or see who's in it.
See the chat, or switch between global and group chat.
See what perk you have equipped.
See how many rounds you have in your current magazine, and how many magazines remain for that weapon.

View your stamina.
When you press G, your inventory comes up.
When you press M the map comes up.
What gun setting you are currently on.
If you are running, crouching, or walking.
Type in chat.
Lets you see what status your vehicle is in.
Lets you see how fast your vehicle is going.
Allows you to control you Radio setting from On and Off and control how loud it is.
You can go to the settings menu and change your controls. For example, use C to crouch and E to open inventory.
Lets you turn your Omni Light on and off.
Lets you detonate C4 charges.
Lets you see who died.
Gives you option to return to lobby.