This article describes a feature in the first Apocalypse Rising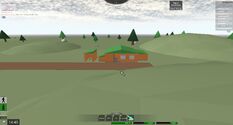 Gusmanak's house is a single story building with orange walls and a green roof. Gusmanak's House can only be found on the Amend map. This was the only building in the game of that type. It is technically a civilian building, but does spawn military loot. It is located in the north-west part of the map above Strive and across from Cheek Pitts. It is a popular destination for bandits and a popular location for loot farming. The house can be easily barricaded, as it only has one entrance. It can also spawn vehicles.

According to legend, Gusmanak came to Amend when the outbreak happened and built this house.
Gusmanak's House cannot be blown up.

It was replaced with the Mansion in Reimagined, and then the Plantation in Reborn.